Improving vision, transforming lives.
Our staff, from Receptionists to Ophthalmic Assistants, are highly-trained and committed to providing professional care in a relaxed, friendly, and comfortable environment.
Our friendly team are known for their warmth as well as their expertise.
Catherine's skills in office management and financial administration were developed and honed in her native Scotland before coming to Western Australia in 1992. Since then, she has successfully integrated her knowledge and experience into the field of medical administration and practice management, which she has been involved in for over 20 years now.
Catherine likes to take a hands-on approach in her role at Peel Vision which gives her the patient contact she most enjoys.
In her spare time, Catherine enjoys baking, researching family history, and travelling.
Theatre Manager / Marketing Manager
Susan has been in the healthcare industry for well over 10 years and has been part of the Peel Vision team since doors opened. She loves meeting new people, getting to know them and their needs, guiding patients and their families through the surgical process, and is dedicated to ensuring the highest level of care every step of the way.  
Always quick to share a laugh & often singing wherever she goes, she loves snuggling up with her fluffy cats, burying her nose in a good book, travelling whenever possible, and is always on the lookout for a new favourite wine or seeking inspiration for a new recipe to try.
Avalon has been working with eyes since she was 19 when she started off working as an optical assistant in retail optometry. She has since found her passion starting at Peel Vision and loves all areas of her job.
She enjoys learning new skills daily and providing the best care to patients. Avalon loves to assist in all procedures whether it be our in-room surgery or the injection clinic, she never gets squeamish! She enjoys meeting new people and all their different requirements which she finds enjoyable and rewarding.
In her spare time, Avalon loves to read books and cook yummy food.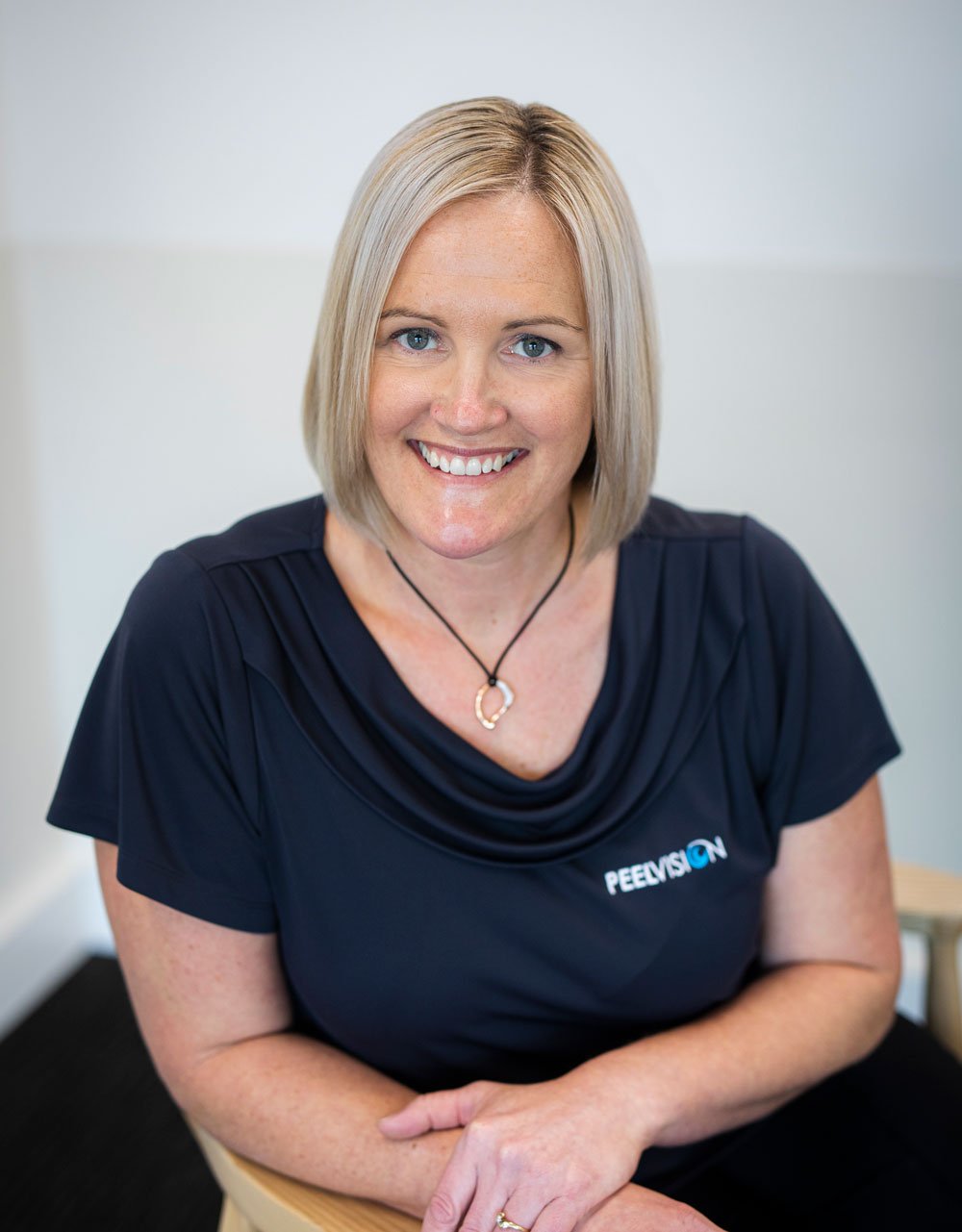 Medical Receptionist / Assistant Theatre Manager
Mel brings 16 years combined practice management/medical administration skills and experience to our team.
Mel provides the highest standard of patient-centred administrative support in her role of senior medical receptionist and prides herself on her ability to deal with all aspects of her role professionally and efficiently.
In her spare time, Mel enjoys caravanning, exploring our amazing coast and bush land with her 2 faithful sidekicks Winston & Charlie.
Di has worked in numerous specialist medical practices over many years (mostly eyes).  She is very gregarious and enjoys helping patients in whatever way she can. 
When not at work she enjoys trying out new restaurants, quilting and drinking rosè (not necessarily in that order).